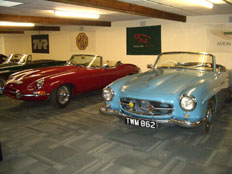 Woodland Park Classic Car Storage is a unique car storage facility that prides itself on offering individual and personalised care packages for your cherished automobile.
We can provide accomodation for your historic or classic through to the modern car or motorcycle. So whether you are planning to go overseas for a short break or need somewhere for a longer period, we can oblige. For you avid collectors, there is also the option of store rooms to house your additional 'memorabelia. We can offer long or short term contracts; be it for weeks, months or even years!
We only cater for a maximum of 15 vehicles, thus ensuring you of our personal and special attention at all times. Your vehicle will be maintained in a spacious secure enviroment where the air is heated, filtered and circulated continuously.
We believe your asset deserves only the best protection.
SERVICES
As part of our package, on induction each vehicle is checked and cleaned and thereafter stored on a battey accumulater at all times.
LOCATION
Woodland Park is located in a discreet rural setting, close to the Spa town of Royal Tunbridge Wells which is conveniently situated between all London Airports and the Channel crossings. Our facility resembles that of a show room, each car housed in its own bay and seen in its full beauty.

SECURITY

The premises are fully alarmed with residents on site. We can give you the assurance of security and total peace of mind